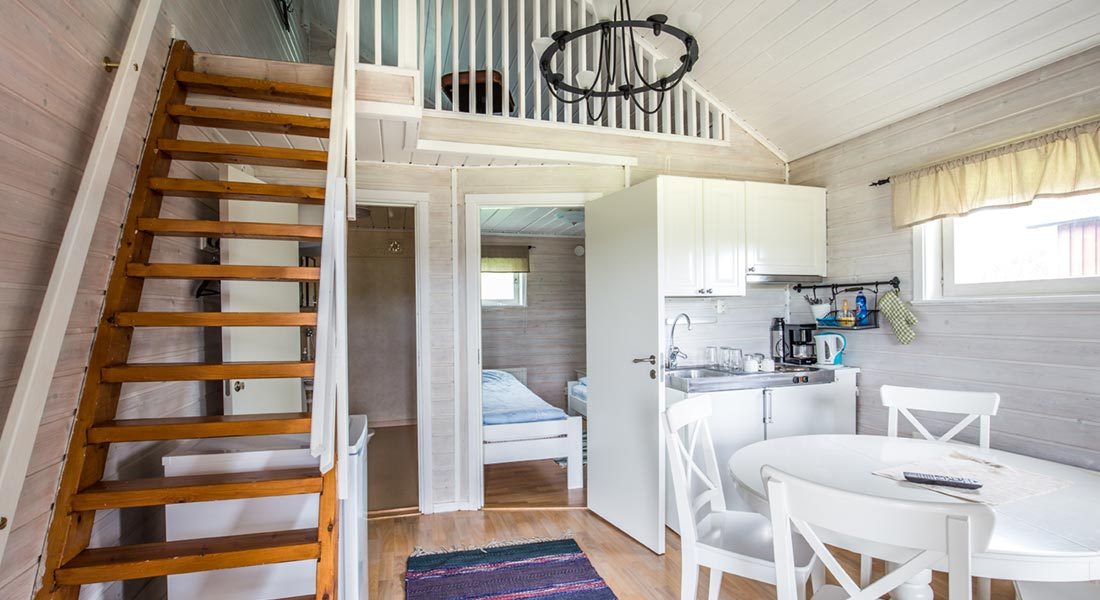 A comfortable stay. Photo: Linnéa Isaksson
Rantajärvi Wilderness is open year-round to everyone who seeks a close-to-nature living with access to hunting grounds, lakes for fishing or a quiet conference environment. Situated next to the lake Rantarjävi, the spot is idyllic for everyone who wishes to relax, embrace the stillness and take control of their own time. Here are no must-dos.
Cabins in Rantajärvi
Five cabins with a total of 30 beds, suitable for one person to families and groups. The cabins are built in Nordic wood with plenty of natural light to make a pleasant setting indoors. Well equipped with modern facilities and free wi-fi.
Four of the cabins, 26 beds, are within the courtyard and about 80 metres from the lake Rantajärvi where you will have access to a timbered bbq hut and a lake sauna. After a hearty sauna in summertime, you can take a swim in the lake. The cabins are surrounded by grass-plots and large birches trailing the way into the village.
Wilderness camp Naarajärvi
Six kilometres west of the village lies wilderness camp Naarajärvi with two timbered cabins with a total of 8 beds, four beds in each cabin, ideally situated by the lake Naarajärvi. Each cabin has a fireplace and plenty of firewood. Towels and access to a wooden fired lake sauna with a bathing jetty for cooling down after a hard-earned sauna. There is also a bbq hut and an outhouse.
Welcome!